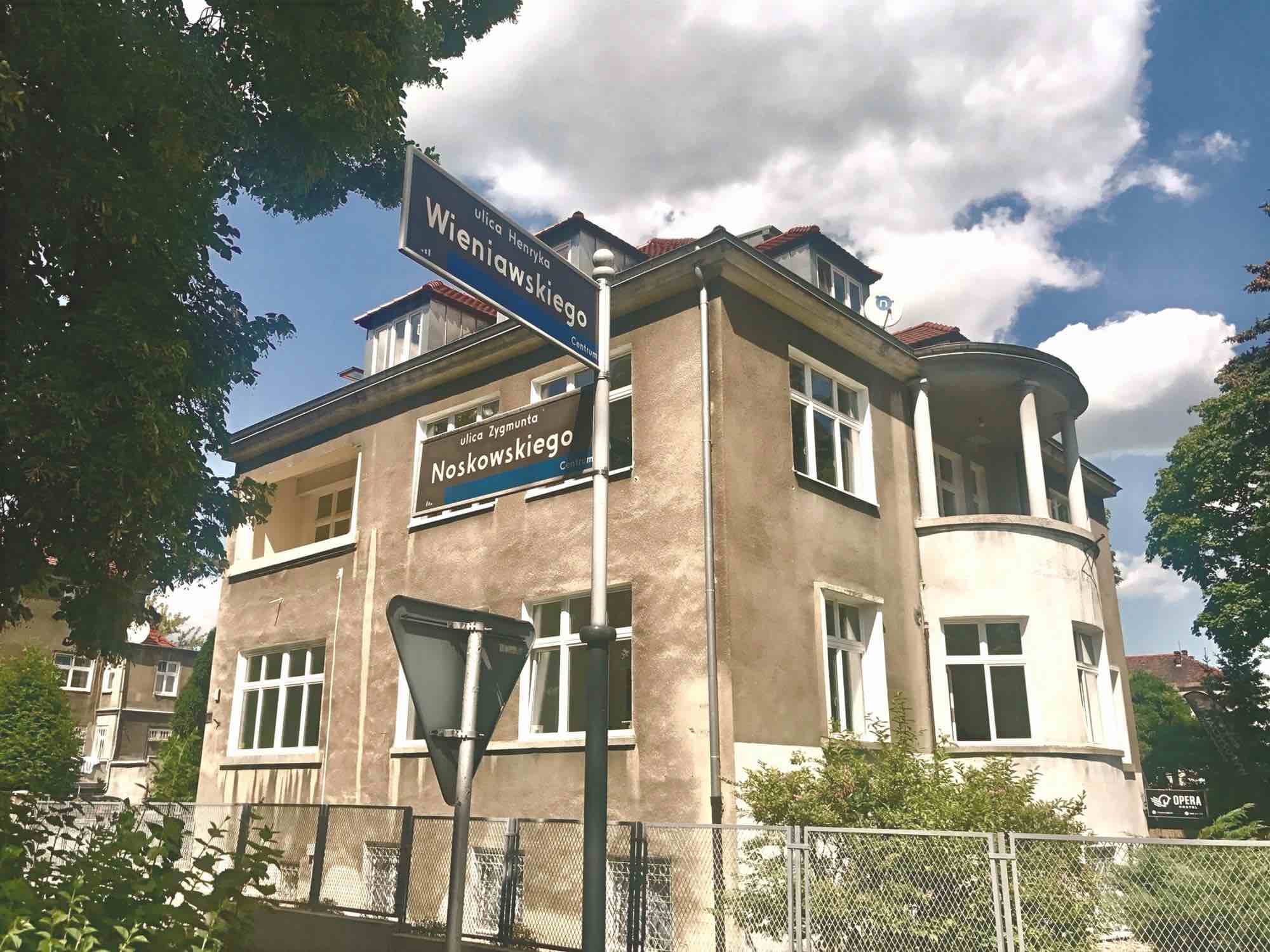 A law firm in Poznań
Przemysław Plewiński, advocate
Advocate Justyna Plewińska
---
EXPERIENCE ESTIMATE RESULTS
Use the legal services of our specialists - experts in the fields of civil , family , criminal law and more. You can count on our attorneys and lawyers also when you ask for legal advice and comprehensive handling of cases in the field of inheritance law , compensation or real estate and labor law .
A specialized team of criminalists will provide comprehensive assistance in criminal matters from the moment of arrest . Do you know or you have a suspicion that a close or acquaintance has been detained or is threatened with pre-trial detention ? Don't wait, call me, no matter what the day and time. We also provide support outside of Poznań .
We will help you when you are an entrepreneur or employer . Write to us and we will send you proposals for permanent legal services .
Do you want to draw up a contract or are you looking for an attorney to represent you in court ? Our attorneys and lawyers in Poznań, with many years of experience, guarantee high efficiency , even in unusual and difficult cases . We provide a standard appropriate for the best legal corporations .
The case of each of our clients will be handled by our entire team, not a single lawyer.
---
Civil Law Attorney Poznań
---
A fair settlement
POZNAŃ ATTORNEY Przemysław Plewiński Justyna Plewińska employs a number of experts who advise clients from Poznań and beyond, and their specialization is, among others civil law. We provide services to both private individuals and corporate clients. Lawsuits for payment, real estate matters, construction law and tenants, incl. our department takes care of.
Family Law Attorney Poznań
---
Proven effectiveness
To obszar, w którym adwokat Justyna Plewińskaspecjalizuje się od wielu lat. Może pochwalić się wieloma wygranymi sprawami. Klienci z miejscowości Poznań mogą spać spokojnie wiedząc, że nasi prawnicy poprowadzą sprawę szybko i wydajnie, uzyskując pozytywny wynik. Maintenance, rozwód, kontakty z dzieckiem – w tych sprawach mamy duże doświadczenie. Zapraszamy na nasz Blog!
Criminal Law Attorney Poznań
---
Years of experience
The company ADWOKAT POZNAŃ Przemysław Plewiński provides legal assistance at every stage of proceedings in the field of criminal law and petty offenses law. Defense in court, appeal, electronic supervision, requests for conditional early release. We help in matters from Poznań and beyond.
Inheritance Law Attorney Poznań
---
Comprehensive help
Testaments and inheritance are often difficult topics for a family to deal with. we are in the city of Poznań to help. We provide assistance in inheritance proceedings such as: confirmation of inheritance acquisition, division of the inheritance, reserved share cases or declaring unworthy. Our lawyers will also advise you on how to draw up a will.
Assistance in obtaining compensation Poznań attorney
---
Efficient action
Our specialists will help you claim compensation for a car accident, accident at work or medical error. We provide representation in talks with insurers, prepare appeals and the required letters. The solicitor will act on your behalf in court. It applies not only to the city of Poznań.
Legal services for entrepreneurs Attorney Poznań
---
24/7 assistance
Przemysław Plewiński Justyna Plewińska provide comprehensive services to entrepreneurs operating both as natural persons and commercial companies. Settlement in the form of flexible subscriptions. We encourage you to contact us by phone. We will be happy to present our offer.
---
Do you have a legal problem? We encourage you to contact an attorney in Poznań.
---
Legal services, attorney-at-law Poznań
Knowledge. Intuition. Ingenuity.
Introductory meeting
Make an appointment today. Call us or write an email. A specialist lawyer will contact you .
Quick consultations
Professionalism and accuracy are the domain of our quick legal consultations. We provide legal advice and initial information from the city
Comprehensive analysis
Personalized approach to each case . We determine the strategy of conduct together with the client.
---
Customer opinions about Advocate Poznań Przemysław Plewiński Justyna Plewińska?
Success in legal proceedings
I recommend!

" The actions taken by Mr. Patron were very effective and led to the end of the case in line with our expectations. You could feel your full commitment to the case at every step. During the entire period of preparation for the case, we had excellent e-mail and telephone contact. Even the dates of personal meetings were adjusted to our limited time possibilities. In short, I recommend it! " Elizabeth B.
Professional approach!

"I had the great pleasure of using the services of Plewińscy Lawyers. I was surprised by his professional approach and the quick implementation of the next stages of a long and complex legal process. Attorney Plewiński does not shy away from difficult matters, treats the client as a partner and keeps his word. I especially recommend it to business clients. " Ariel S.
More opinions about Attorney Poznań in Poznań
---
Law Firm in the media:
https://gloswielkopolski.pl/kibol-lecha-poznan-skazany-za-zgwalcenie-mezczyzny-wibratorem-ofiare-mieli-za-nic-to-bylo-okrutne-mowila-sedzia-wydajac-wyrok/ar/c1-15422781
https://plus.gloswielkopolski.pl/chaos-i-odwolane-rozprawy-w-sadach-to-efekt-protestu-pracownikow-zadaja-podwyzek/ar/13731386
https://gloswielkopolski.pl/wojna-parkingowa-w-centrum-poznania-kto-ma-prawo-zarabiac-na-parkingu-ona-czuje-sie-bezkarna-a-ja-sie-boje-sila-mnie-wyrzucili/ar/c1-14715128
https://gloswielkopolski.pl/policjanci-pobili-mezczyzne-w-sremie-prokuratura-wznowi-sledztwo/ar/3423453
https://gloswielkopolski.pl/wielkopolskie-forum-mlodziezy-odbylo-sie-w-dzien-dziecka-w-wielkopolskim-urzedzie-wojewodzkim/ar/c1-16411783
---
Law Firm - Poznań. A team of specialists in inheritance law
Our law firm in Poznań provides legal services in civil matters, including inheritance cases, so you can use our services. We provide our clients with a sense of security and comfort. We use mediation techniques to prevent disputes and conflicts from gathering pace. We make every effort to reach an agreement between the parties and bring each case to a favorable conclusion. If you are looking for an experienced attorney in Poznań specializing in inheritance cases, you've come to the right place. Contact our law firm and present the situation, and we'll do the rest. Especially for you, we will develop the best strategy to ensure a positive end to the dispute.
Advocate - Poznań. We will help you get your compensation
Our law firm in Poznań deals with compensation cases more and more often. It seems that it is precisely in this aspect that professional help is needed. We guarantee legal assistance at every stage of the proceedings. From the moment of reporting the damage to representing the client in court. So if you have been injured, contact us by phone or visit our law firm. Poznań is not the only city where we provide legal assistance, as is the case in other cities of Wielkopolska - please contact us to arrange the details.
Lawyers - Poznań. Your satisfaction is our priority
You have never used legal services and are you afraid of the first consultation? Take advantage of the help of a law firm in Poznań. Our specialists will take care of your comfort and friendly atmosphere during the meeting. Remember that an interview with a lawyer is confidential. Therefore, you can fully trust us.
---
Contact the attorney Poznań now
Przemysław Plewiński, advocate
Advocate Justyna Plewińska
You can find us in Google Maps. Only the best lawyers in Poznań.
We realize that each case is unique and requires individual treatment . If you have any questions about our services or need help, please do not hesitate to contact us . By deciding to cooperate, you significantly increase your chances of achieving your goal and working out the best, optimal course of action. We also invite you to visit our blog, because you will find there a number of valuable and helpful entries.
We invite you to use the services of the law firm.
LAWYER IN POZNAN - Przemysław Plewiński
Advocate Przemysław Plewiński Advocate Justyna Plewińska
ul.

Bydgoska 2a/38

61-127

Poznań

tel.

605 660 248
biuro@plewinscy.pl